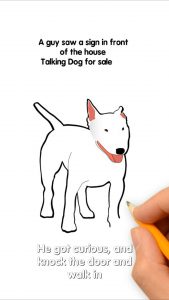 A guy saw a sign in front of the house "Talking Dog for sale" he got curious, knock on the door and walk-in. In front of him, he saw a dog. A guy asks a dog: What did you do? Why do they want to sell you? Dog answers: I lived in the Mountains and helped to rescue people from avalanches then I was a part of the medical team to fight a Covid. And now I am spending my days here. Wow, the guy was impressed.
The Guy asks the dog`s owner: "This is an incredible dog. Why do you want to get rid of this wonderful dog?
The owner replied: He is a liar. He never did any of that.